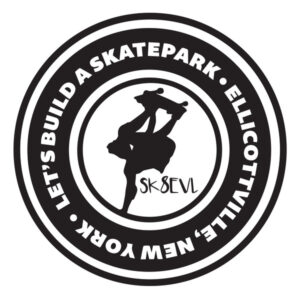 Presentation to Ellicottville Village Board of Trustees, November 18th
ELLICOTTVILLE, NY – November 11, 2019 – The Ellicottville Skatepark Committee (SK8EVL) and the Village of Ellicottville have been awarded a $300,000 Built to Play Skatepark Grant to help develop a public skatepark.
SK8EVL has been advocating over the past year to rally the community, as well as municipal leaders, to support a public skatepark project. The hard work paid off this month when the award was announced by the Tony Hawk Foundation.
Brenda Perks, lead skatepark advocate for SK8EVL says, "We're grateful for the opportunity to work with the Tony Hawk Foundation to bring a skatepark to our community. Having this type of facility in Ellicottville – one that is open to the public and free to use – will give our youth a place to go where they can be active and express themselves through the sport of skateboarding."
Perks, other SK8EVL members, and supporters of the skatepark will be presenting to the Village of Ellicottville Board of Trustees on Monday, November 18th at 6:00 pm. The presentation will include the official announcement of the Built to Play Skatepark Grant award, and a discussion regarding next steps and timelines for the project. The public is welcome to attend the meeting, which will be held at the Ellicottville Village Hall, 1 West Washington Street.
"Having this grant will help a dream come true for our community," says John Burrell, Mayor of Ellicottville. "We are so fortunate and we look forward to creating a skatepark within our Village Park, which not only serves our full-time residents and part-time residents, but also serves many nearby communities."
Built to Play Skatepark Grants are offered through a partnership between the Ralph C. Wilson, Jr. Foundation and the Tony Hawk Foundation. The grant initiative offers matching-grant funds of up to $250,000. The Built to Play Skatepark Program supports community groups and municipal entities throughout Western NY and SE Michigan that are seeking to create free, public skateparks that serve low-income communities. Built to Play Skatepark Grants also include an additional $50,000 to fund processes and design features that lessen the environmental impact of the skatepark. The Built to Play Skatepark Program also provides advisory services and advocacy training to assist groups in organizing and managing their efforts.
Contact:
Brenda Perks, Ellicottville Skatepark Committee
ellicottvilleskatepark@gmail.com
716-244-7573