From The Summer Local: SK8EVL
Before we begin, let's get something out of the way. If you are of the attitude that skateboarding (and snowboarding, for that matter) consists of shady kids looking for trouble, please get out from the rock you've been living under. No longer are these sports — or activities, whichever you'd prefer — anti-establishment, or any of the other preconceived notions society likes to label something different. Skateboarding is going to be an Olympic sport in 2020, and let's be honest — would you rather our youth be glued to Fortnite, or be outside getting exercise and building confidence?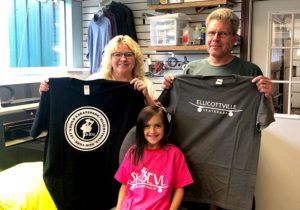 Great! Glad we're all on the same page. 
Chris and Brenda Perks love skateboarding. When they began preliminary discussions a few years ago about opening their own indoor park, the cost and difficulty made them rethink it, as an endeavor of that magnitude would be almost impossible for the private sector without substantial investment. The dream would have to wait. 
But skateboarding fate wouldn't be so quick to be done with the Perks' vision. Last August, they connected with The Tony Hawk Foundation's western New York project manager Trevor Staples, an Ann Arbor, Michigan native who had heard rumblings of a young, local couple trying to stoke the local skateboarding fire. 
"Trevor heard about what we wanted to do and got in touch with us," Brenda said. "We met with him and learned more about the Tony Hawk Foundation's 'Built-to-Play' initiative. The organization has teamed up with the Ralph C. Wilson, Jr. Foundation to offer communities matching grants (up to $250K) to build outdoor concrete skateparks that are open to the public and free to use. There are some requirements to qualify, but Ellicottville matches all of them. We're in the running for it." 
The late Ralph C. Wilson, Jr., former owner of the Buffalo Bills, was an outstanding human being. His fund, distributed through the foundation bearing his name, supports local communities throughout western New York and southeast Michigan. In 2018, the foundation announced that $200 million would be split evenly between the two regions to create parks and trails. The Tony Hawk Foundation, created by the world's most recognizable skateboarder, has donated over $9 million to assist in creating 623 skateparks nationwide. 
"Basically, we need to fundraise $250,000 and they'll match it," Perks said. "We'll apply for the grant in September. Those grants will be approved in December, and from that point, we'll have one year to raise the money. After that, we'll have one year to build and open it. The skatepark's proposed location is in the Village Park." 
The amount that needs to be raised is no easy task. Fortunately, the Perks' involvement in the community has allowed them an already-established relationship with those who will ultimately make the decision on approving the proposed project. So far, the skatepark has been galvanizing. 
"The reception has been incredible," Perks said. "It's been very well received. We're pleasantly surprised to have the amount of support we've gotten from the Village. When we first presented it, we were a little nervous there would be some blowback. Because there's this stigma about skateboarding. But right off the bat, a lot of people were on board — realizing that this is a tourism town, and this will only help bring in more visitors.
That leads us to the point made at the beginning of this story. A mom or dad that skated in the 1970s and 80s — when the sport was in its infancy — are now all grown up, married, have families of their own and have passed the thrill of four wheels onto their children. A majority of skateboarders are predominantly teenagers and young adults, but it's not uncommon to find those now-moms and dads still rippin' it up. And for those moms and dads that don't skate, you'll see them dropping their kids off to skate at the proposed park, then they're going to head into the Village and eat, drink and shop. There's an economic impact here.
The Perks' have been working with Kathy Elser, a local grant writer (and Chris' aunt), and the Village's grant writer, Diana Cihak, to assist in seeking out money from local, county and state grants. And the committee currently has the wheels in motion for a ton of fun, unique fundraising ideas. The support of the community throughout this entire process will be critical. 
"We really want to emphasize — this isn't our project. It's the community's project," Perks said. "Not only does having a skatepark encourage people to get outside, but there's a socialization aspect of it as well. There are so many things it can be utilized for besides skateboarding. Lessons, annual events that can raise money for other organizations, and a place for people to feel a part of something. Anyone that wants to get involved, we're highly encouraging them to do so." [Read More…]